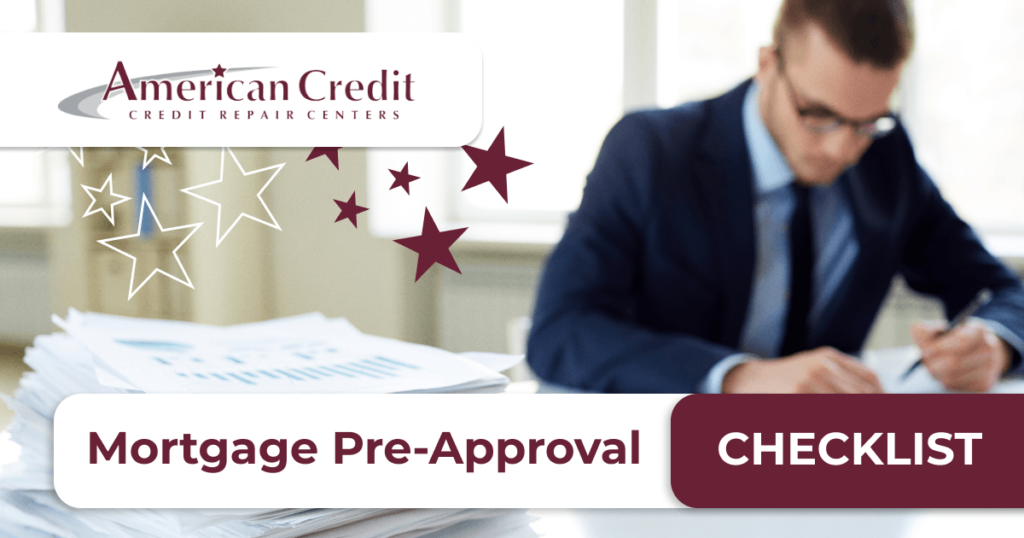 By the time you want to make an offer on a house, you should have already been pre-approved for a mortgage loan. Sellers usually expect a buyer to have a pre-approval letter. If you prove you can obtain financing, they'll probably be more willing to negotiate. Being pre-approved means proving your income and assets, showing you have good credit and are employed.
Pre-approval is much more valuable than being pre-qualified for a mortgage, which just provides an estimate on what you can afford. When you've been pre-approved you usually have 60 to 90 days to make a decision. This is beneficial because it gives you time to:
Discuss potential loan options with the lender.
Set up a price range based on what you can borrow.
Decide what you are most comfortable spending.
What Do I Need to Get Started?
This mortgage pre-approval checklist details all the information you need to share with your lender. Before your meeting, gather the following:
Proof of Income/Employment
There are various documents that apply here. The ones you need depend on how you get paid. If you earn regular wages from an employer, you'll need two recent payroll stubs and copies of W-2 forms. An end-of-year payroll stub will be needed if you also earn income from overtime, bonuses, or differential pay.
But if you are self-employed, you'll need two years of Form 1099s that prove your income as a freelancer, independent contractor, sole proprietor, etc. You'll need to provide a year-to-date profit and loss statement as well. The same goes for those who earn income through partnerships and S-corporations.
If you earn real estate income, documentation of rental income, the address of the property, and its lease and current market value will be required to qualify for a mortgage.
Tax Returns
In addition, the lender may require copies of your two most recent federal/state tax returns. Form 1040 shows your income, employer, address, and social security number. It helps to have a PDF version of your tax return, which avoids having to scan your return page by page.
Proof of Assets
Bank statements, investment account statements, and proof of cash reserves are needed to show you can cover the down payment, closing costs, and other expenses. Unless you can put a down payment for at least 20% of the purchase price, you'll need to buy private mortgage insurance (PMI) or pay a funding fee. To help the process move along smoother, have 60 days' worth of statements for each account you're using to qualify for the loan. Include any retirement and brokerage account statements for the last two months (including IRAs, CDs, and stocks and bonds).
Debt Payments
Mortgage lenders use your debt-to-income ratio and monthly debt payments to see if you can meet your payment obligations. You, therefore, need to provide information on your credit cards, auto loans, and student loans. Each account number, loan balance, minimum payment amount, and creditor's name and address must be provided.
You don't necessarily need a credit history to qualify for a mortgage. If you don't have credit, submit your utility bills or other records of regular payments. If you currently have a mortgage, provide the most recent statement with the loan number, balance, and monthly payment plus your insurance policy's declaration page.
Additional Documentation
If you currently rent a house/apartment, you'll need to show the last 12 months of payments and submit your landlord's contact information. Records of divorce and court orders for child support and alimony payments are also required. Other information to provide includes documents related to bankruptcy and foreclosure, as well as down payment letters if your using financial gifts to cover payments. A gift letter shows whether the donor expects to be paid back or not.
Verify Your Credit
Your credit has a big impact on whether a lender will pre-approve you for a mortgage. For a conventional loan, most lenders require a FICO score of at least 620. The higher your credit score, the lower the interest rate you may qualify for. The lowest rates typically go to those with a credit score of 760 or higher. However, the Federal Housing Administration can approve borrowers with a score of 580 or higher.
Typically, lenders with a lower score must make a larger down payment. But if your credit score isn't where you want it to be, the lender may work with you to suggest ways to improve it.
Consider a Proven Credit Repair Solution
Your credit score is one of the most important factors in being pre-approved or approved for a home loan. We understand exactly what mortgage lenders look for. Whether there is negative information on your credit report or you have a low or medium credit score, we can develop a strategy to help you qualify for a mortgage. Call 855-384-0868 today for your free credit consultation.